WHY RENT WHEN YOU CAN OWN?
5% Down Payment Only | Apartments Starting From AED 434,888 | Townhouses Starting From AED 1.1 Million | Flexible Payment Plans | AED 560 Per Sq.Ft.

Studio, 1, 2 & 3 B/R Apartments For Sale | 3 & 4 B/R Townhouses For Sale

Nshama is a Dubai-based developer of integrated lifestyle communities offering exceptional value to aspiring homeowners since 2014.
Nshama projects are truly self-contained and offer residents all their needs in close proximity. Its projects are differentiated at all touch points – from value to amenities, location and sustainability considerations. Investing in Nshama enables customers to shift their lifestyle from a predominantly rent-driven model to an own end-user home that is cost-competitive and a solid investment for the family.
Conveniently located at the intersection of Al Qudra Road and Emirates Road and a short way from Al Maktoum International Airport and The Dubai Mall, Town Square is surrounded by attractions that are perfect for family activities.
Expertly master-planned community to include a range of modern perks and conveniences, this smart community puts everything at your fingertips and lets you design the life you've always dreamed of. With parks spanning 154,000 square metres, 16 community gardens, an extensive network of trails – this is a city life you thought impossible. Priced within reach of renting families and professionals, Town Square Dubai apartments and townhouses offer an exclusive address and exceptional opportunity.
A good home gets you started, a good neighbourhood takes happiness to a new level. Your home needs the right setting to really thrive. Nshama architects and designers looked at the big picture and thought of everything when it comes to making each day at Town Square Dubai a rich, rewarding experience.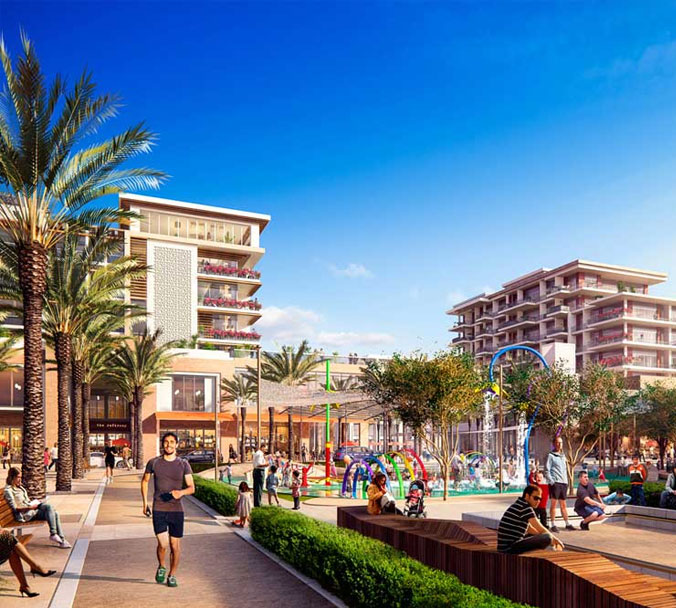 Sama Townhouses
3 & 4 Mid & End Type Townhouses
5% Down Payment Only | 50 / 50 Payment Plan
0% Agency Commission
Prices start from AED 1,274,000
Rawda Apartments

1, 2 & 3 Bedroom Apartments
5% Down Payment Only | 35% / 60% Payment Plan
4 Years Post Handover Payment Plan | Handover: June 2020
Prices start from AED 708,888
UNA Apartments

Studio & 1 Bedroom Apartments
5% Down Payment Only | 40% / 60% Payment Plan
Handover: December 2020
Prices start from AED 434,888
Zahra Apartments

2 and 3 BR Ready To Move-In
10% Down Payment Only | 0% Agency Commission
15% in 10 days from booking & 75% in 30 days from booking
Prices start from AED 840,888
Hayat Boulevard Apartments

2 and 3 BR Ready To Move-In
10% Down Payment Only | 30% / 70% Payment Plan
Year paos | Handover: December 2019
Prices start from AED 830,888
Town Square is a mega project launched in Dubai in early March 2015. Located along Al Qudra Road, the development is 750 acres in size and will eventually consist of 3,000 townhouses and 18,000 apartments. NSHAMA, the entire project will be built over 10 years. The development will consist of a central public space the size of 16 football fields, over 500 retail outlets, a cinema to be managed by Reel Cinemas and a Vida Hotel.